eGuide to Creating a Memorable Celebration of Life Service
I am introducing my eGuide to Creating a Memorable Celebration of Life Service.  I have written this eGuide to help provide valuable information necessary to create, plan and deliver a memorable and meaningful Celebration of Life Service.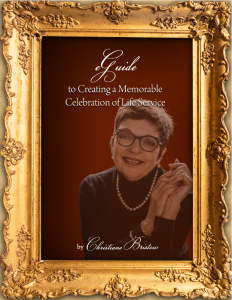 eguide@christianebristow.com
Recent Review
This guide is truly incredible!  So much insight and so thought provoking.  It's all in the little details and every one of those details have been captured in this eGuide! I'm so grateful to have Christiane's detailed eGguide and expertise to see me through a celebration of life and I hope everyone has the opportunity to review this guide before they actually need it. While there is a plethora of information in this eGuide, it's not overwhelming.  It's written with experience, compassion and love!
Thank you, Christiane, for sharing so that others can benefit from your insight!
Chantal B.
In this eGuide, you will find four main sections.
Section 1 – Questions to Ask the Family
These questions will help you generate a conversation to ensure the wishes of the family are appropriately represented.
Section 2 – Creating and Planning the Celebration of Life Service
In this section, you will find information for you to consider as you help guide the family in the planning of the service.
Section 3 – Order of Service – Script Sections
I am outlining possible sections for your Order of Service.  This will guide you and allow you to easily adapt and modify the sections you will include in your Service.
Section 4 – Text Samples – Suggested Remarks
I am sharing with you suggested text samples and suggested remarks.
I am humbled you have taken the time to access my website and listen to my video. My wish is to help you deliver that meaningful and memorable Service.
You will be there for them.
My information is here for you.
A Humble Celebrant
Christiane

Reviews for Christiane's
eGuide to Creating a Memorable Celebration of Life
---
"This is an amazing easy to read and easy to follow step by step guide to assist you in creating a memorable celebration of life service. It guides you through the process of each task with easy to understand steps.
The author shares her invaluable experiences as a celebrant which makes this guide extremely useful.
Elena and Peter
---
Christiane has managed to pull together an exceptionally thoughtful, sensitive, and practical guide to help officiants support and guide grieving families and help them to navigate the complex and often conflicting questions, emotions and relationships that make it such a difficult time. Her deep experience in guiding families through that often challenging process and helping them remember and celebrate the wonderful memories of the one they loved, is reflected in her sage advice and practical examples.
Bravo Christiane
TCB
---
In this easy-to-read, concise and helpful eGuide, Christiane sets out the components necessary in order to plan a well organized, meaningful and memorable celebration of life service.  She pays great attention to the essential details yet includes those special touches of warmth that offer additional comfort to those who are mourning.  I feel that the information provided would give me the confidence required to accept this important role, should I ever be asked.
DD